Meeting on Sustainability of Composites held at Poly Products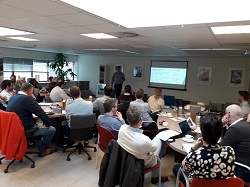 SeaBioComp partner Poly Products held a meeting on 4th February 2020 in Werkendam to discuss the sustainability of composites.
The meeting was initiated by the Professorship of Polymer Engineering at the Dutch University of Applied Sciences Windesheim. 25 delegates attended representing businesses in plastic and rubber waste, composite companies and material suppliers.

The meeting discussed the progress of the development of hybrid re-use in End-of-Life composites and other plastic waste streams. In order to investigate possible cross-overs with the SeaBioComp project, Dr. Ir. Albert ten Busschen gave an overview of the SeaBioComp project and specifically the use of bio-based polymers in 3D-printing of marine structures.

During the discussions opportunities were proposed to use bio-based polymers to print a fender profile and to combine this with large internal rubber parts for energy absorption.


Send this story to a colleague
Subscribe to our newsletter

Posted 2020-02-12 13:27:48
« Back to news