Developing high quality biocomposite materials with reduced environmental impacts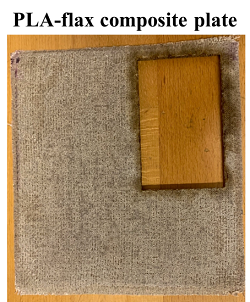 Work Package 1 of the SeaBioComp project is looking to develop high quality biocomposite demonstrators which will have a significantly reduced environmental impact compared to traditional oil-based composites.
Thermoplastic polymers are interesting matrix materials due to their high-strength-to-weight ratio, processability, low production costs and high corrosion resistance properties.

In general, oil-based thermoplastics are not biodegradable and the recycling at the end of their lifetime is still a difficult and expensive task, even if it is theoretically feasible.

Hence, some bio-thermoplastics which are biodegradable, are being widely investigated as ecofriendly alternatives to conventional oil-based thermoplastics.

One of the main drawbacks of biobased thermoplastics such as PLA (Poly Lactic Acid) is their low mechanical properties, in particular low toughness. The SeaBioComp project aims to develop 100% biodegradable (or recyclable) thermoplastic composites while addressing the issue of low mechanical performance such as toughness of common biobased polymers.

A great deal of work between partners and material suppliers has gone into producing a number of different bio composite materials including:

* Self-reinforced biopolymers with low melting temperatures biopolymers in the matrix and high melting bioploymers in the reinforcement material

* Hybrid composite materials of flax fibres and biopolymers

* Thermoplastic monomer injection flax fibre preforms

The first year of the project was spent learning about the various materials and their properties; this second year has seen partners working on specific materials to give workable results for the industry.

These materials are now being optimised through adaptations, testing and manufacturing procedures.

In August tests were carried out on high and low melt grade bio-polymer fibres, filaments and non woven samples using melt spinning and melt blown processes. Optimised results are emerging but testing is on-going with more results due in the New Year on multi-filament and combination matrix materials.

Early indications demonstrate that in order to optimise the mechanical properties of filaments and non-woven materials, it is both the selection of the polymer reinforcement and the polymer matrix that is important. The adhesion between the reinforcement and material matrix is also recognised as being very important in getting optimal results.

A number of material combinations are looking promising and will be tested for ageing and marine applications.

This work package will be testing the processability of these materials and will be developing prototypes of bio component and bio based multifilaments and spunbond nonwovens using different polymers.

Send this story to a colleague
Subscribe to our newsletter

Posted 2020-11-18 15:55:23
« Back to news