CETI hosts tour of its innovative facilities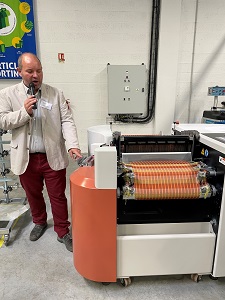 Project partner CETI, The European Centre for Innovative Textiles, recently open their doors to delegates at the SeaBioComp event in Tourcoing in France.
The tour of CETI's facilities was extremely interesting with delegates being shown the company's state-of-the-art technologies as well as learning about their innovative equipment and capabilities which develop new textile applications.

CETI have produced a flax bio-polymer nonwoven as part of the SeaBioComp project.

Send this story to a colleague
Subscribe to our newsletter

Posted 2022-06-08 12:22:45
« Back to news